Activities & Clubs
National Service Scheme ( NSS )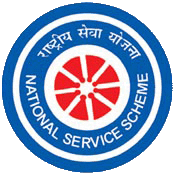 National Service Scheme [NSS] aims at the importance of democratic living and self-less service. The motto of NSS- "Not Me But You." The symbol of NSS is based on the Giant Rath (Chariot) of World famous Konark Sun Temple at Orissa. There are eight bars in the wheel representing 24 hours of the day, where the NSS volunteers should be lively, active, energetic and full of spirit.

The scheme at +2 stage was introduced in 1985. Today the total strength of NSS is more than 1.3 million volunteers. The scheme is funded both by Central and State Governments.

An institution will be allotted NSS unit according to the strength of the students i.e. each unit of 100 students. The Unit will have Principal of the college as Director, a teaching staff as NSS Programme Officer, who should be an organizer, educator, co-ordinator, supervisor, administrator, a public relation person and faculty of the college as advisory committee members.
The main objectives of NSS are:-  
To understand community in which we work.
To understand ourselves in relation to the community.
To understand the needs and problems of the community.
To develop social and civic responsibility.
To find practical solutions to individual and community problems.
To develop group living and sharing of responsibilities.
To acquire leadership qualities and democratic values.
To develop the ability to meet emergencies and national disasters.
To practise the sense of national integration and social harmony.
The National Service Scheme [NSS] in our college was one of the major projects of Golden Jubilee Celebration in the year 2003. The special camps conducted under the various programme officers were:
Sacred Heart Higher Primary School – 2003-04 at Ammunje – Mr. Ivan. D. Suares, Lecturer in Economics and Mr. Pundarika, Lecturer in History.
Vishwakarma High School – 2004-05 at Bellampalli – Mr. Ivan. D. Suares and Mr. Pundarika.
Udupi Zilla Panchayat Higher Primary School – 2005-06 at Shantekatte, Kaltur – Mr. Ivan. D. Suares and Mr. Pundarika.
Udupi Zilla Panchayat Higher Primary School – 2006-07 at Sasthav, Kokkarne – Late Alfred. C. Lewis, Lecturer in English and Mr. Pundarika, Lecturer in History.
Vedesha Vidyamanya National English Medium School – 2007-08 at Barkur – Mr. Vijay Alva, Lecturer in Sociology and Mr. Pundarika, Lecturer in History.
Udupi Zilla Panchayat Higher Primary School – 2008-09 at 52, Heroor – Mr. Vijay Alva and Mr. Pundarika.
Recently, keeping with the tradition of the objectives of NSS, various Literary and Cultural programmes were organized by the unit:
Plastic awareness programme collaborated with Gram Panchayat, Varamballi, Brahmavar Foundation, Rotary Club, Interact Club, Rotract Club, Brahmavar.
Inter P.U. Folk dance competition collaborated with Mangalore Sociology Club.
Pre- Republic day special cultural camp collaborated with Department of Youth Service and Sports at Milagres College, Kallianpur.
A programme on facing emergencies collaborated with Department of Fire Services, Rotary Club, Rotract Club and Interact Club, Brahmavar.
Literary programmes such as

Right of Information Act by T. B. Shetty, Advocate, Kundapura.
Child Labour by Prof. Melwin Rego, Milagres College.
Corruption by Dr. Ravindranath Rao, S.M.S. College.
Plastic awareness by Smt. Laxmi Bai, Former Principal S.V.S. P.U. College, Katapady.
Women Empowerment by Prof. Sushila Rai, S.M.S. College.

Health check up collaborated with Adarsh Hospital, Interact Club, Rotary Club and Rotract Club.
To conclude, the NSS Unit makes the students imbibe the concept 'live and let live.'  
---